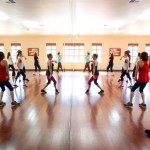 From the Las Vegas Review Journal
Music blasted inside a dance studio at The Stage signifying the beginning of class.
At 5:30 p.m., another cardio dance party session kicked off to a mixture of an electronic dance version of Lorde's "Royals" along with a man playing the djembe in the corner.
"Here we go," the instructor said, just slightly able to be heard above the music.