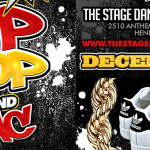 Have you always dreamed of taking a class from a famous dancer and choreographer to the stars?
Mac, choreographer to Usher and Chris Brown is coming to The Stage to share his unique style and passion for hip hop dance. This class will be a mixture of hip hop and R & B, with an emphasis on authentic movement, formations, style, choreography and enhancing performance technique. Dave's "Straight From the Streets" attitude will take any and all dancers of all backgrounds, and push them to their limit! This is an experience you won't forget!
Street clothes or dance attire with sneakers.
$50 per person (*Stage Students and Local Dancers will receive a $25 discount at the door!)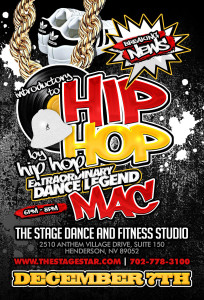 About Mac:
Coming out of purgatory neighborhood where young men do not make it out alive pass twenty-four years of age, I was forced to grow up wise beyond my years. I discovered my love for dance at the age of 8. Dancing became a way of escape from an environment of gang violence and poverty. Dancing was my way out of a corrupted neighborhood. I taught my first dance class at eleven years old. My first dance class was a group between sixteen and eighteen year olds. By this time, I realized my talents were beyond my years. I begin to participate in shows, state fairs, local dance shows and street parties. At the age of eighteen, opportunities started to present themselves when I starred in a Summer Jam. My talent as a dancer landed me a job in the industry as a personal assistant in B.E.T. Awards Show at only nineteen years old. A few years I was introduced to the opportunity of working under Fly Stylz as assistant creative director. With this opportunity I learned creativity, style, inspiration, vision and who I was as a
dancer. My style comes from a street experience and culture.
I have worked with a diverse style of artist in the industry. However, I worked a significant amount of time with Usher and Chris Brown. I have taught many worships on Stage Performance at different locations, such as: Sacramento CA, Oakland CA, Los Angeles CA, and Chicago, IL. I also have taught overseas in Australia and Germany. I have taught students at Universities including UNLV and Sacramento State.
I share my life story through dance. Hip Hop dance is not a job or a hobby to me, it is a lifestyle. I take pride in sharing my passion and love for dance with other aspiring dancers who enjoy the experience just as much as I do.