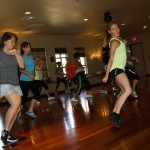 Learn to dance Hip Hop moves and have a great time doing ! Hip Hip is an amazing addition to your fitness program. You do not have to know any moves at all. Come in as you are, let your hair down, and learn a few moves…
Beginners are very welcome!
REMINDER – Feb 2014 is the last month we are offering a no contact $97 All-You-Can-Dance Membership.
Come try us out for a month…you know your gym will always be there for you next month!