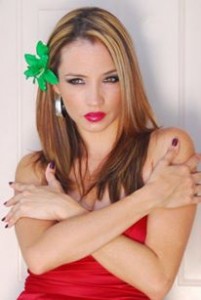 Jaqueline Andrea
Jaqueline Andrea is a dancer, Model, voice talent, and motivator who has been dancing and choreographing for over 15 years. Born in Guatemala, Central America, Jaqueline has the rhythm in her blood. She has been featured as a professional dancer for Latin rhythms such as Salsa, Merengue and Cha cha.
She added Zumba to her bag of tricks because she knows how important it is to get people inspired to stay fit and move. "MUSIC IS THE BEST VITAMIN FOR THE SOUL", says Jackie.Zumba has allowed Jackie the opportunity to share her love of dancing with a wider range of people.
She loves working with people of all ages and fitness levels. In her opinion, nothing beats the feeling of seeing someone free their mind, body, and soul, and move to the beat of the music! Jackie's unique way of making people move their bodies has created a large group of loyal fans for her phenomenal class!