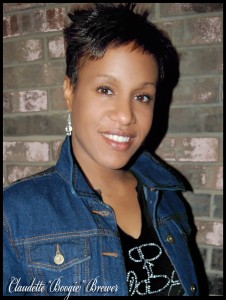 Claudette "Boogie" Brewer
Claudette studied dance from the age of 5. She is formally trained in tap, jazz, ballet, modern and hip-hop. As a teenager, Claudette was already choreographing for dance teams, as well as her own classes. For six years Claudette was a member of the nationally acclaimed Bre Dance Company, which performed across the Southern California area.
She starred in "I Got Love" music video by Kleo and also won Miss Street Dance USA competition in Long Beach, California in 1997. Claudette's passion for dance has taken her on a journey of teaching and choreographing for world renowned dance programs, schools and special events. She has been honored with numerous awards for her innovative choreography.As a Zumba Certified Instructor, Claudette became nspired by the combination of dance and fitness, and created her own dance format called Jam Zone. She was rated as "Top 5 Dance Fitness Instructors" and taught an average of 26 classes a week. Jam Zone became the most popular class at some of the top gyms in the country, such as Cooper Aerobic Center and Tom Landry Fitness Center.
Claudette has also introduced Jam Zone to employees at large corporations, such as Mary Kay, Bank Of America, and Frito-Lay/Pepsi. Claudette recently relocated to Las Vegas to grow her brand JamX (formally Jam Zone) with the dream of sharing her class with students around the world. Claudette's talent has allowed her to work and train with some of the best in the business, including Wade Robson, Eboni Nichols, Shane Sparks, The One Armed Bandit, Clifford Breland, Tovaris Wilson, Buster Cooper, Julie Kelley and more. She is currently group exercise certified through AFAA, Zumba, and CPR Certified.