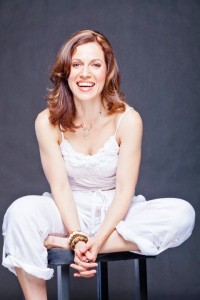 Ann Marie Pereth
Ann-Marie Pereth has been in the fitness industry for eight years. Her current certifications include Zumba, Zumba Toning, Zumba Gold, TKB, Schwinn and Silver and Fit. Currently, she teaches Zumba, Pilates and cycling for 24hour Fitness, Club Sport and Gold's Gym.
Her loyal followers describe her as talented, creative, inspiring, and a role model for health and fitness.With a passion for performing, Pereth has been involved in theatre and dance since she was 10 years old, beginning her training with the award winning Rainbow Company Youth Theatre. Her theater experience includes performing, directing and choreographing with many world-renowned theatres throughout the country including Utah Shakespeare, Pacific Conservatory of the Performing Arts and American Girl in New York City.
Pereth was recently the assistant director and dance captain for The Drowsy Chaperone (2006 multiple Tony Award winner) as part of Spring Mountain Ranch State Park's 2011 Super Summer Theater and working towards her Master of Fine Arts in Directing at the University of Nevada, Las Vegas.